This is shocking if true!
In a surprising turn of events, pro-Trump lawyer Lin Wood just shared a screenshot that accuses Fox's Tucker Carlson of having a 'buddy buddy' relationship with President Biden's son Hunter Biden.
According to Insider, Wood shared a screenshot of a conversation between Carlson and Hunter Biden as "proof".
The claim by Wood still remains unclear however because the "proof" of the email conversation is an unredacted and unverified screenshot from 2014 which was posted to his Telegram account.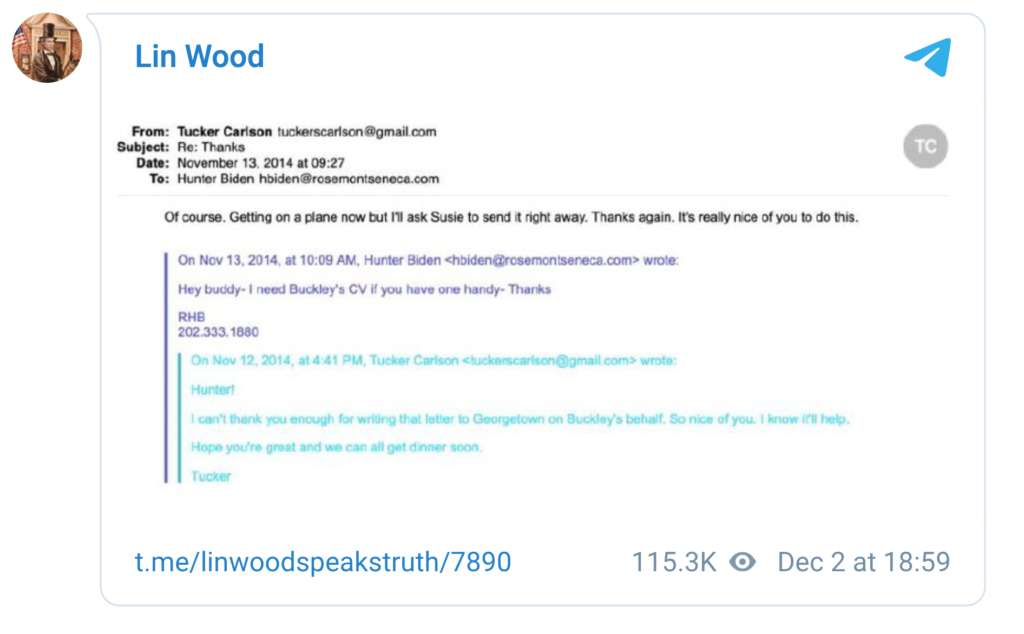 After this shocking revelation came to light, neither Fox's Tucker Carlson nor Biden has reached out to verify the authenticity of the screenshot.
In the alleged message exchange between Wood, Carlson, and Biden, it appears that Carlson is thanking Hunter Biden for writing a reference letter to Georgetown University for his son Buckley Carlson.
"Hunter! I can't thank you enough for writing that letter to Georgetown on Buckley's behalf. So nice of you. I know it'll help," Carlson allegedly wrote to Hunter Biden.
"Hope you're great and we can all get dinner soon. Tucker," the message ends.